Solstice was founded on the idea that every American should have access to affordable solar energy. Building solar is now almost universally cheaper than fossil fuel plants, and industry experts say that solar costs will continue to fall. But a shocking 80 percent of Americans are locked out of the rooftop solar.
How Many Americans Can't Install Rooftop Solar?
Getting rooftop solar is generally only realistic if you own your home, have a relatively high FICO score (over 680), and live in a state with policies that require utilities to compensate you for the energy you produce. Under these requirements, a 2015 report from independent clean energy research organization GTM Research puts the percentage of Americans left out of the rooftop solar industry at 77 percent, or approximately 90 million American households.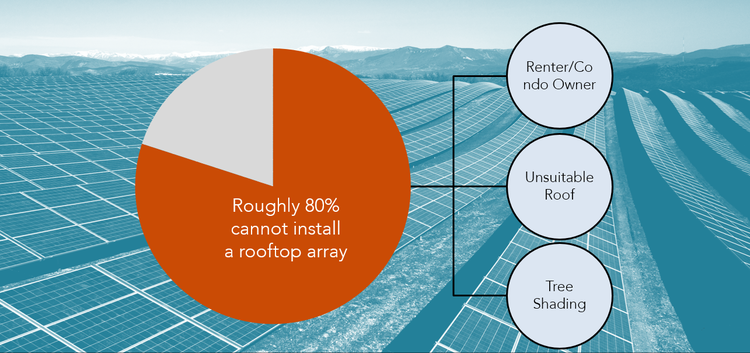 GTM breaks down the reasons that US households can't install rooftop solar in their 2015 Solar Market Outlook. The biggest factor is that the third of Americans who rent their homes generally cannot install rooftop solar, while other important elements include policy, access to credit, and physical barriers.
This is a useful, big-picture look at the US solar market, but it's not everything we need to know. To really understand what's happening with solar access in the US, we need to dig deeper into the numbers that make up this graph.
Related
Infographic: How to Bring Solar to Every American.
How Many U.S. Rooftops Work For Solar Panels?
A 2015 report from the National Renewable Energy Laboratory (NREL) states that 81 percent of  residential buildings have suitable space for at least 1.5 kilowatts of solar on their rooftops. This number reflects factors like rooftop area, shading, and rooftop orientation.
In an attempt to put a more realistic number on the households who can actually install panels on their roof, the researchers then chose to exclude the 37 percent of households who rent their homes or who live in buildings too tall to easily install solar. According to these criteria, 49 percent of American households can install at least 1.5 kilowatts of rooftop solar.
This number gives an idea of how many households are entirely excluded from rooftop solar due to shading, rooftop orientation, building size, and homeownership status, but when it comes to solar, size matters. Only 20 percent of rooftop solar arrays installed today are less than 1.5 kilowatts in size. The average array size is 5 kilowatts, and you'd need slightly more than that to power the average family home. The same NREL study indicates that only 39 percent of small buildings could host an array 4.5 kilowatts or larger, regardless of factors like homeownership.
Many Americans Can't Install Rooftop Solar Due To Credit Requirements
Since few Americans can afford the upfront cost of rooftop solar ($15-40k on average), a full analysis of solar access needs to include access to credit. Rooftop solar financing typically requires a credit score of 650 or more–a requirement which less than half of the American population fulfills (32 percent of Americans have a credit score lower than 650, while one in five has no credit score at all).
Given that so many Americans don't have the credit ratings required by solar financiers, the number of people left out of the solar market is likely significantly higher than NREL estimates. Community solar has the potential to remedy this problem.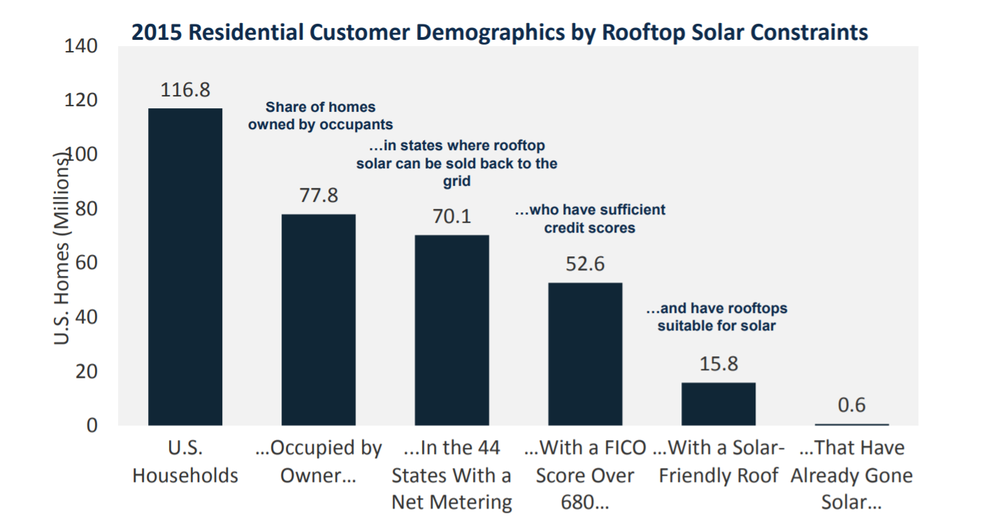 Solar For All
Solar will only go mainstream when access to it is democratized, and today, nearly four in five Americans can't install rooftop solar. Some of the obstacles confronting these households have to do with the laws in their states, but the majority of them are issues that community solar is well adapted to address. These communities are the reason we come to work in the morning, and we'll only be truly satisfied when they have full and equal access to their own solar energy.
Solstice Is Bringing Solar to Every American.
We're making solar work for you.
energy democracy
energy equity
solar access
solar energy
solar for renters