An energy system that is renewable and fair for everyone will put communities first–and you can help.
The Bridgewater Parish Church had always been dedicated to serving its community and protecting the environment. The organization's leadership recognized the rising threat of climate change and the injustices introduced by environmental pollution, and wanted to find a way to bring more renewable energy to their community.
Leaders in the community encouraged members to "go green" by making energy efficiency improvements and by switching to solar energy. They discovered, though, that many of their members weren't eligible to install panels on their roof.
That's when Solstice came along. We informed them that their members were eligible to subscribe to a local community solar farm, saving 10% on their electric bill while supporting local renewable energy.
For the Bridgewater leadership, it was a no-brainer. With Solstice helping them to spread the word through events and follow-up support, they:
Fulfilled an important component of their mission: supporting clean, renewable energy and improving life in their community
Strengthened their community ties through leadership and shared work on an issue important to their members
First, the church committee signed up the church. Then, the pastor signed up his own home. And then congregants followed suit.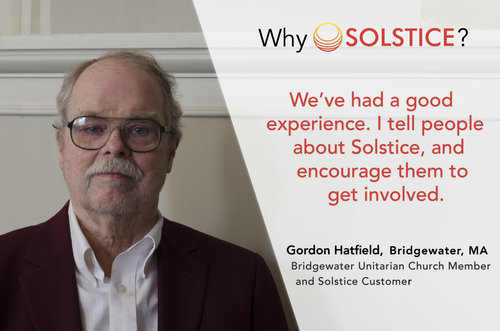 Learn How Your Organization Can Get Involved
Name * Email *
Solstice Helps Your Constituents Go Solar
A recent Yale study showed that the #1 reason that people go solar is because a friend or neighbor did. This means that solar spreads through communities, and that local leaders have the power to make a difference. Moreover, the members of the Bridgewater Church aren't alone. Approximately four in five American households can't install solar on their rooftop, because their roofs are shaded or facing in the wrong direction, because they rent their homes, or because they can't afford the upfront costs. With Solstice, local organizations and businesses have a chance to have a positive impact in their community and strengthen their relationships with their members and constituents. We work hard to make community solar easy, organizing events, providing informational materials, and providing ongoing support to solar ambassadors in your community.
Learn How Your Organization Can Get Involved
Solstice makes it easy for organizations to live their values & bring solar to their community.
climate change organizations
community solar
corporate sustainability
solar for communities
solstice culture
sustainability