The buzz around community solar is growing. All across the country, local solar farms are spreading solar access neighborhood by neighborhood. But most folks still aren't sure whether community solar is in their neighborhood.
The buzz around community solar is growing. All across the country, local solar farms are spreading solar access neighborhood by neighborhood. But most folks still aren't sure whether community solar is in their neighborhood.
As of yet a lack of data has stood in the way of a clear picture of where to find community solar. The National Renewable Energy Laboratory (NREL), however, recently released data it has collected on the size and location of community solar farms in America as part of its Sharing the Sun Community Solar Project.
We turned that data into a map to show you where you can find community solar.
A Map of U.S. Community Solar
Here's the map, created from NREL data on community solar across the country:
There are a few noticeable takeaways from this map that we'll get into below. For instance, why do some states show such strong progress? Why are others lagging behind? Why aren't the sunniest states benefiting the most from accessible solar? Answers to these and more below.
This is the most comprehensive source yet created to track community solar across America, but NREL notes that, while its data has been reviewed, it may still contain errors, may not be fully comprehensive, may include duplicates, and is missing information in some places (shown through blank spaces in project details).
The data also tracks projects through June 2019, meaning it lacks newly built solar farms in the last year. If you have additional data to provide, updated info can be submitted to Jenny Heeter at jenny.heeter@nrel.gov.
Why Community Solar Clusters In Certain States
It's hard not to notice in the map above that some parts of the country have a good deal more red and orange than others. This might come as a surprise to some readers. If community solar is truly free to join, it's good for customers, it stimulates the local economy, and it's good for the planet…why isn't it everywhere?
We've written about the top states in community solar, such as New York, Massachusetts, Minnesota, and Colorado. The quality that has set these successful states apart isn't their extra sunshiney climate–in fact, none of these states even rank in the top five when it comes to annual sunshine. Instead, it is government legislation enacted to support community solar development.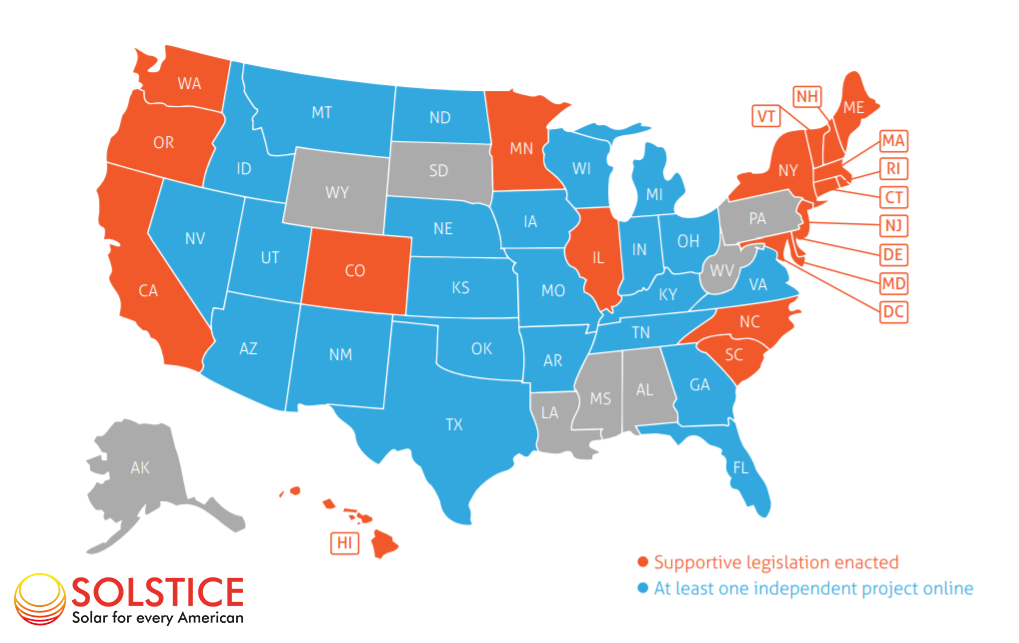 Over the last decade, solar has become one of the cheapest forms of energy to produce. However, it still requires legislative support to get built. State laws around how customers earn credits for solar power, how developers earn revenue, how solar sites can be selected, how utilities integrate distributed energy into their grids and more all affect whether a state is ready for community solar.
Looking at the map, the states that are lagging behind on community solar are often the states with some sort of interest or investment in other energy sources. Pennsylvania has fracking, West Virginia has coal, the gulf coast and states out west have oil, and so forth.
Yet wherever your state is on community solar today, the trend is clear: a host of new states are hopping aboard right now.
Maine and Illinois are just beginning to ramp up community solar projects in 2020, so expect those states to look very different on this map a year from now. Pennsylvania, New Mexico, Maryland, and New Jersey have all pushed forward crucial legislation that will grow their community solar programs as well. Most of these states are sparse according to NREL's current data, but that will change very quickly.
U.S. Community Solar In 2019 vs. 2018
If you've enjoyed the maps so far, we've got one more for you: NREL's index of U.S. community solar projects in 2018. Here's what the country looked like one year prior:
It's a lot more sparse than the 2019 map above.
NREL's data has the number of U.S. community solar projects growing from 543 in 2018 to 834 in 2019, a 53% increase year over year. That kind of growth marks newfound renewable energy access for thousands of Americans who could never have participated so meaningfully in the green revolution before. We expect 2020's increase to be even more profound than 2019's, especially as data becomes more readily available. The future is bright for this young community solution.
Hoping for more community solar farms to appear in your state? Check back here for updates as data becomes available! And if you want to be contacted when community solar is available for you, fill out our Go Solar form below:
Want to join the thousands of households and businesses in supplying clean energy to the grid?
See if there's a Community Solar farm near you!
clean energy
community solar
renewable energy
solar farms