By shining a light on tribes and leaders that are adopting renewable energy
American Indian heritage is deeply rooted in a well-documented history of caring for the earth, recognizing that its resources aren't endless. This respect for the environment goes hand in hand with their commitment to renewable energy. For Indigenous communities, like American Indian tribes, renewable energy is a game-changer, bringing economic growth, better social well-being, and keeping their cultural heritage alive.
Per capita, American Indian communities contribute significantly less to greenhouse gas emissions compared to the national average. American Indian Tribes have rallied behind over 1,000 solar installations across the United States! Indigenous communities have been on the frontline of climate change, taking a stand and blocking major pipelines that could've spelled disaster for our environment. Think of the victories against giants like the Dakota Access Pipeline (DAPL) and the Keystone XL Pipeline. These wins are like David taking on Goliath, and they're protecting not just tribal lands but the planet as a whole. They're not just talking the talk; they're walking the walk.
These accomplishments reflect the proactive stance of American Indian communities. They're leading the way in adopting renewable energy, preserving their land and water resources, and reducing their carbon footprint. And in doing so, they're not only securing their own future but also contributing to a more sustainable and environmentally responsible future for all of us.
American Indian tribes who are lighting the path for a more sustainable future for us all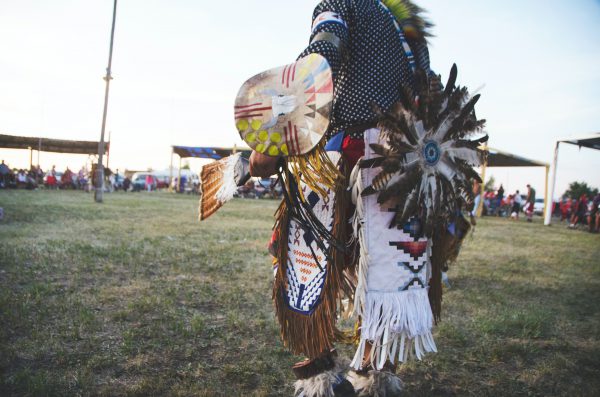 The Standing Rock Sioux Tribe:
Remember the courageous Standing Rock Sioux Tribe's stand against the Dakota Access oil pipeline? Well, their fight against fossil fuels didn't end there. In 2019, they took the bull by the horns… or, sun by the rays, as it were, by installing solar farms to power their Cannonball Youth Activity Center and Veterans Memorial Building. These sun-soaked farms are expected to save the tribe $7,000 to $10,000 annually on energy costs, which will be reinvested in their community. It's a remarkable success story, especially in a region where solar energy was practically a myth until now, with North Dakota ranking dead last in residential solar installations.
The Moapa Band of Paiutes:
Contributing to Nevada's goal of achieving 50% renewable energy by 2030, the Moapa Band of Paiutes teamed up with the state utility and developers to create the monumental Moapa Southern Paiute Solar Project. This giant venture boasts a capacity of 250MW, enough to power approximately 111,000 homes without a trace of fossil fuel pollution. But that's not all – they're planning to build two more facilities, including the Southern Bighorn Solar & Storage project with 300MW of solar and 135MW of energy storage. These forward-thinking projects are set to generate clean energy at a lower cost than traditional gas or coal.
The Winnebago Tribe in Nebraska:
The Winnebago Tribe embarked on a journey towards sustainability and self-sufficiency back in 2008. They adorned their lands with almost 1,000 solar panels, amassing an impressive 400kW of capacity. The success of these panels led them to expand, with their capacity now reaching 720kW. These additional panels are projected to save the tribe an extra $47,000 each year in energy costs.
The Navajo Nation:
The Navajo Nation, one of the largest tribal reservations in the U.S., has invested in solar power projects to provide clean energy for its residents. The Navajo Tribal Utility Authority's Kayenta Solar Project, the largest solar project on the reservation, consists of two farms which produce 55 megawatts of energy, sufficient to power the entire Kayenta chapter. There are plans for a larger solar project in Red Mesa, expected to generate 70 megawatts of power, and Cameron, Arizona, scheduled for later this year, is projected to produce 200 megawatts of power with battery storage. These developments are crucial for the many families on the reservation without electricity.
Rosebud Sioux Tribe:
The Rosebud Sioux Tribe in South Dakota installed a large solar farm to power tribal buildings and reduce energy expenses. This This 300-kilowatt solar energy installation saw the active involvement of women, including Cassandra Valandra, a Rosebud, SD Native, who played a significant leadership role. Following her SolarCorps Fellowship, she accepted a full-time position with GRID Alternatives' Tribal Program Team. The project highlights the empowerment of not only American Indian tribes, but of women in the Rosebud community, advancing renewable energy and supporting their community
Pine Ridge Indian Reservation: 
Pine Ridge, also in South Dakota, has implemented various solar projects to address energy poverty issues and provide sustainable power sources to homes and community facilities.The capacity of these projects vary widely, ranging from a few kilowatts to multiple megawatts.
The Pueblo of Sandia:
The Pueblo of Sandia Tribe in New Mexico built the Sandia Solar Farm. This solar energy installation is located on tribal land and has the capacity to generate a significant amount of electricity. The Pueblo of Sandia have also expressed interest in wind energy projects which could contribute to the Pueblo's goal of energy self-sufficiency and diversification of its energy sources.
The Jicarilla Apache Nation: 
The Jicarilla Apache Nation has developed a significant wind energy project on their reservation, which has provided economic benefits to the tribe and the surrounding community. There has been interest in both solar and hydro energy options as well.
Major Market, Zuni Pueblo:
Major Market is a 100% Indigenous and family owned and operated grocery store at Zuni Pueblo, and one of the most recent Solar for All solarization projects in the area. The 84KW project, the largest completed, includes solar panels and electric car charging stations. Major Market serves 25,000 people and serves as a community gathering space and a source of healthy, organic local and traditional foods, in contrast to the fast food available at gas stations and convenience stores.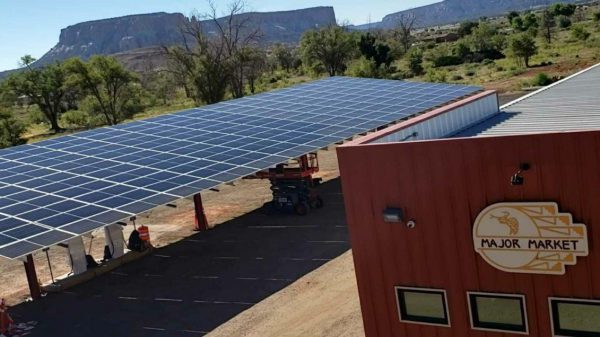 We spoke with Mariel Nanasi, Executive Director at New Energy Economy, and local Ogaa Po'ogeh – unceded occupied Tewa land dweller, who said, "The first solarized building at the pueblo is 100% Indigenous owned and operated and makes real the vision of what is possible – a just and sustainable world with equitable access to clean food, soil, air, and water and local energy sovereignty. The Zuni Pueblo Governor agreed, 'This project is in line with our Zuni core values of Hon Ulohnan ichem'anna:wa – we will care for this earth. As a tribe, we are working hard to protect our land from climate change as well as protecting our sacred sites from resource extraction.'"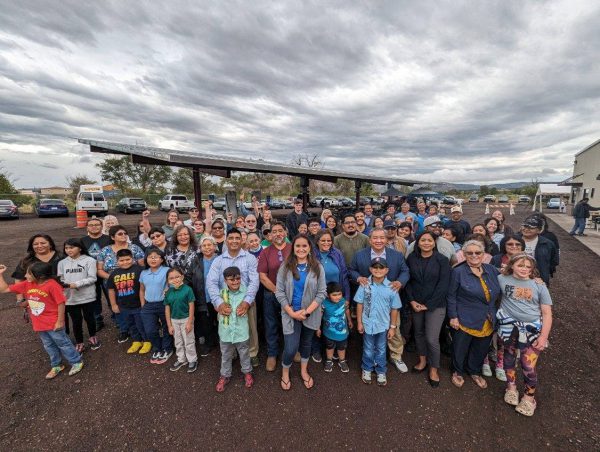 The "Bandwagon Effect" and the Tribal Renaissance:
These examples illustrate the diverse ways in which American Indian tribes are embracing solar and other forms of renewable energy to enhance energy sovereignty, foster economic development, and promote sustainability within their communities. These are not isolated cases but part of a wider trend among tribes to harness the power of renewable energy for both economic prosperity and environmental stewardship. This phenomenon, often referred to as the "bandwagon effect," is illuminating the path forward for indigenous people.
Renewable energy isn't just a Western idea; it's a universal one
It brings together American Indian communities, aligning with Western culture and environmental goals and providing an array of economic, social, and cultural benefits. By embracing clean energy, Native communities are not just lighting up their own lives but also contributing to the global effort to combat climate change.
The injustices inflicted upon the American Indian community by the energy industry are deeply rooted in a history of exploitation, environmental degradation, and socio-economic disparities. The energy industry's impact on American Indian communities spans many decades, and these communities have often borne the brunt of negative consequences associated with energy production. As Solstice prepares to bring community solar to New Mexico, it is crucial to reflect on these historical and ongoing injustices, and to take proactive steps to support and empower these communities. We understand and respect the cultural traditions and values of American Indian communities in the area and want to engage in a meaningful dialogue with tribal leaders and community members to ensure that the projects and community benefits align with their needs and aspirations.
A large part of our model is to partner with local organizations and leaders to provide education to their networks and ensure that we share our wealth with the community through enrollment incentives and fundraising. If you or someone you know is a tribal leader or operates a local American Indian business, supporting nonprofit, or organization, feel free to reach out to us at partnerships@solstice.us to speak with a partnerships representative about connecting your network with an accessible energy option and raising funds for sustainable improvements for your organization.
Now that we've paid homage to the tremendous American Indian tribes and leaders in renewable energy, on to the celebrations and how we can support indigenous peoples this month and every month. Celebrating American Indian Heritage Month is a great way to show respect, learn, and promote understanding of Native American cultures. Here are some ways you can help celebrate and encourage education:
Education: Start by learning about the history, culture, and contributions of Native Americans. Read books, watch documentaries, and listen to podcasts or interviews by Native American authors and experts.
Museums and Cultural Centers: Many museums and cultural centers dedicated to Native American heritage offer exhibits and events during this month. Visiting them can be a great way to learn and show support.
Native American Events: Look for local events, such as powwows, festivals, and gatherings. These events often feature traditional dances, music, crafts, and food.
Native Artists and Craftspeople: Purchase artwork, jewelry, and other crafts
made by Native American artists. This not only supports their livelihood but also preserves traditional art forms.
Native American Literature: Explore literature written by Native American authors. Their writings provide insights into their experiences, perspectives, and cultural richness.
Native Land and Sacred Sites: Be aware of the land you're on and its historical significance to Indigenous people. Acknowledge and respect the rights of Indigenous communities to their ancestral lands.
Volunteer and Donate: Support organizations and initiatives that work to empower Native American communities. Volunteering or making donations can be meaningful ways to give back.
Engage in Dialogues: Encourage conversations about Native American issues, history, and contemporary challenges. Engaging in respectful dialogues can help raise awareness.
Advocate for Indigenous Rights: Use your voice and resources to support policies and initiatives that uphold the rights and interests of Native American communities. Stay informed about important issues.
Teach Your Children: Educate your children about Native American heritage, history, and culture. Share age-appropriate books and stories to foster understanding and respect.
Share Information: Share what you've learned with friends and family. Educating others about Native American heritage can have a ripple effect in promoting understanding and respect.
Remember that celebrating American Indian Heritage Month is not about imitation but about recognition, appreciation, and honoring the rich and diverse cultures of Native Americans.
In this American Indian Heritage Month and every month, let's not just celebrate, but let's learn, engage, support, and take a stand for a brighter, more inclusive future for all.