Our company took an offsite trip to the National Memorial For Peace and Justice. Here's what we learned.
On a chilly Tuesday morning in Boston, I'd normally be biking to work, listening to one of my favorite podcasts in one ear and watching out for the sounds of the road with the other. One month ago, however, I was getting ready to board a plane with my teammates to Montgomery, Alabama.
Thanks to generous funding from one of our supporters, Solstice was off to visit the National Memorial for Peace and Justice. Having been granted an opportunity most of us would never otherwise get, we were eager to take advantage of this offsite to become better as people and as a group.
We had several goals in mind: to revisit our social justice mission, connect greater purpose to our work, find shared solutions to team challenges, and create space to discuss issues at a deeper level than we often can in the "controlled chaos" of the office environment.
As it turned out, the trip did even more. It set the stage for conversations over the following weeks that would harden our team's passion for its work and ensure that every Solsticer feels empowered to steer our organization toward its goals.
Confronting a History–and Present–of Injustice
The National Memorial for Peace and Justice commemorates the lives of thousands of victims of lynching across more than a dozen states. Etched on 805 metal blocks shaped like coffins, the victims' names hang from the memorial's ceiling. At first the blocks rest at eye level, inviting an intimate view of every name. To walk through the memorial, however, is to descend down its only pathway until you find yourself standing directly beneath them, the way a participant might have stood in relation to the victims at the moment their lives ended.
Placing myself in that position–of a participant in violence, doing nothing to prevent it and therefore, frighteningly, complicit in it–is an experience I won't forget.
What made it even more powerful was our visit to the Legacy Museum, the partner to the memorial, which chronicles our nation's history of discrimination against African Americans, from enslavement through today's systemic problem of mass incarceration.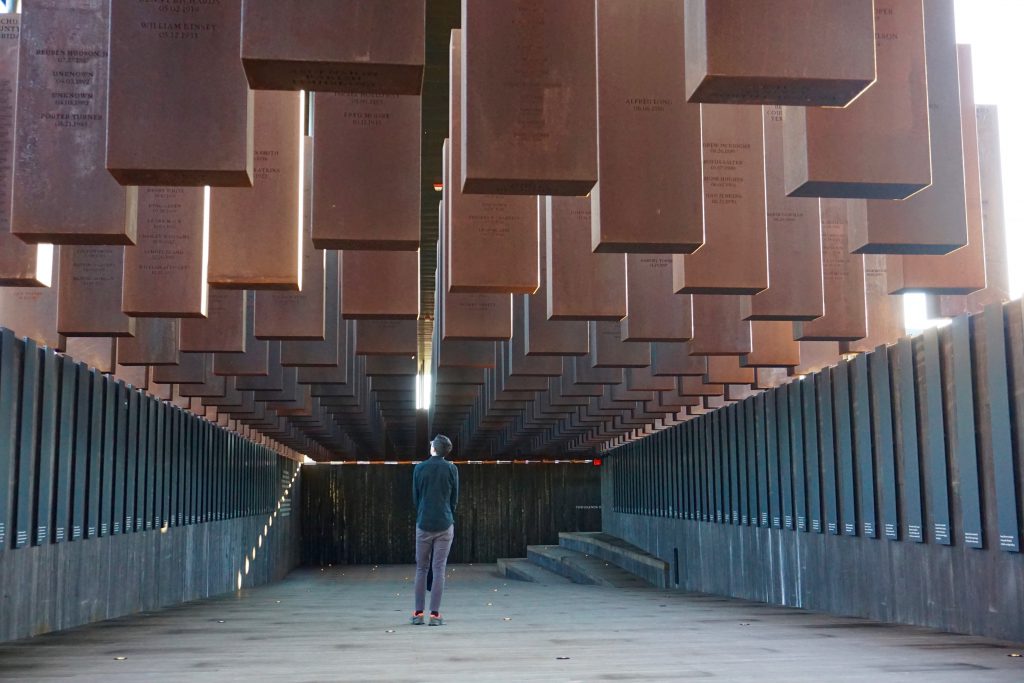 Forrest, our Low-Income Inclusion Program Manager, reads the names of victims of lynching at the National Memorial for Peace and Justice.
We watched as holographic representations of slaves told their stories. We even sat down at phone booths as one would in the visiting area of a prison, faced a screen showing an inmate in a modern prison, picked up the phone, and listened as prisoners detailed their experience with America's justice system. These extremely vivid and personal interactions opened up unique opportunities for us to connect with victims of injustice.
Taken together, the two sites serve as a chilling reminder of the prejudice and violence that have played a major role in shaping our society. They challenge us to develop solutions to inequity that continues today.
Revisiting Our Mission
After our visit, we gathered around to discuss what we'd seen and heard that day. One question we asked ourselves repeatedly during our conversation was: what's going on today that will make future generations look back and wonder, how did they let that happen? And what can we, as individuals and as an organization, do about it?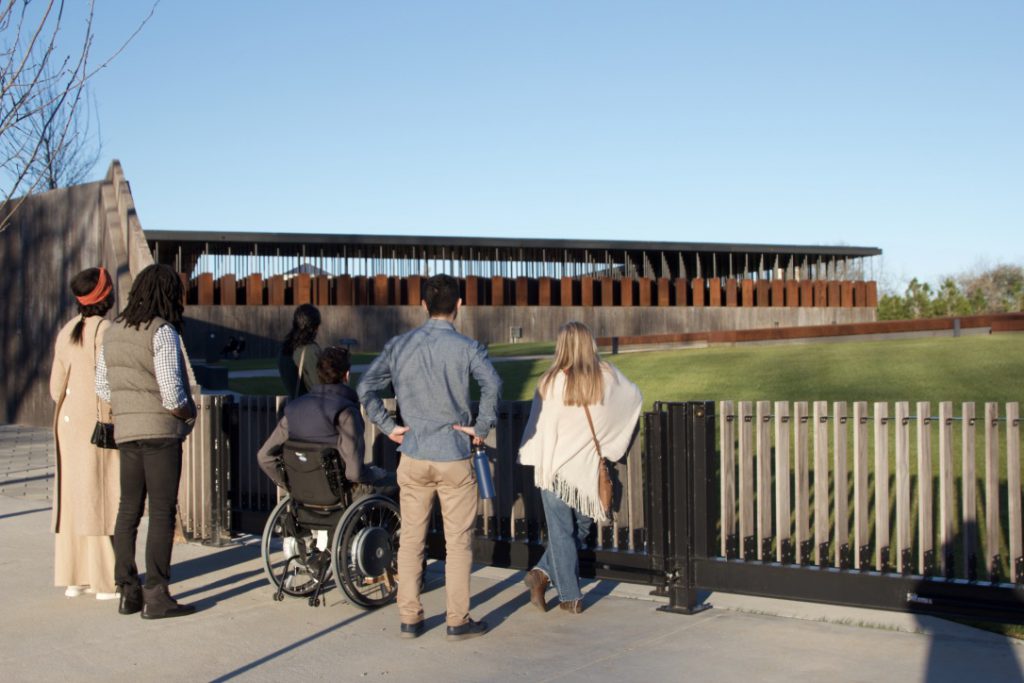 Team members shared personal experiences with discrimination, along with strategies for fighting injustice–from practicing empathy for those who disagree with us to taking advantage of the platforms we have to make a change. In the end, we found that many of these conversations were linked to the changes our organization is pursuing in the energy industry.
Solstice's mission is simple: "To put affordable clean energy within reach of every American." That mission drives our work and informs our values. It's the reason behind our creation of the EnergyScore, it motivates our advocacy for short-term contracts with fewer fees, and it's the purpose behind our policy work to make community solar accessible for low- and moderate-income populations.
But like any startup, our schedules are full. We have tasks to complete by the end of the week, the day, even the hour. On a daily basis, those micro-goals occupy most of our thoughts. That's why it's necessary, once in a while, to leave our desks to place our work within a larger movement for social and environmental good. Traveling to Montgomery gave everyone a chance to reflect on why they work at Solstice and exactly how they plan to make a difference.
For starters: why clean energy? Because clean energy promises a more hopeful future for our country: one in which power plants don't pollute our neighborhoods, tear apart valuable land, or change our climate. On top of changing where our power comes from, clean energy transforms who is in power by giving communities the right to make decisions for themselves about their future. Millions of Americans suffer right now from pollution and crippling energy costs, all due to decisions they didn't make. Clean energy gives them a way to take action for their well-being.
Why every American? One of the most important lessons the Legacy Museum imparts is that inequity is not just a historical blemish. It's an ongoing challenge. As an example: while African Americans make up just 13 percent of our population, they constitute 40 percent of prisoners and 42 percent of those on death row.
Unfortunately, it isn't hard to find racial disparity in our own industry, either. Communities of color face higher rates of energy insecurity and receive far fewer rooftop solar installations than mostly-white communities. Our society is going to make the transition to a clean economy, but big transitions tend to benefit some groups more than others. Community-shared solar power ensures no one gets left behind.
Making Our Mission a Reality
The fact is, a mission does little good unless we work effectively to accomplish it. With that in mind, our offsite conversations touched upon the processes we can improve within our company to turn our mission into a reality. Here are a few things we gained from our discussions:
Cross-Collaboration
A few years ago, the Solstice team all sat together in one room and worked together on nearly every project. Since that time, we've added a lot of new members and specified responsibilities. It's made us a lot more efficient at our jobs, but in some ways, it has also separated departments by focusing them on different tasks. During our offsite, we discussed ways that we could better our results by collaborating more effectively between departments. In the wake of that discussion we've changed the structure of our team's weekly meetings. New meetings go as follows. On Mondays, each department presents their goals for the week and the help they'll need from other departments or individuals to meet them. Every Friday, we revisit our objectives, see what has been accomplished and what still needs work, and identify effective areas of collaboration.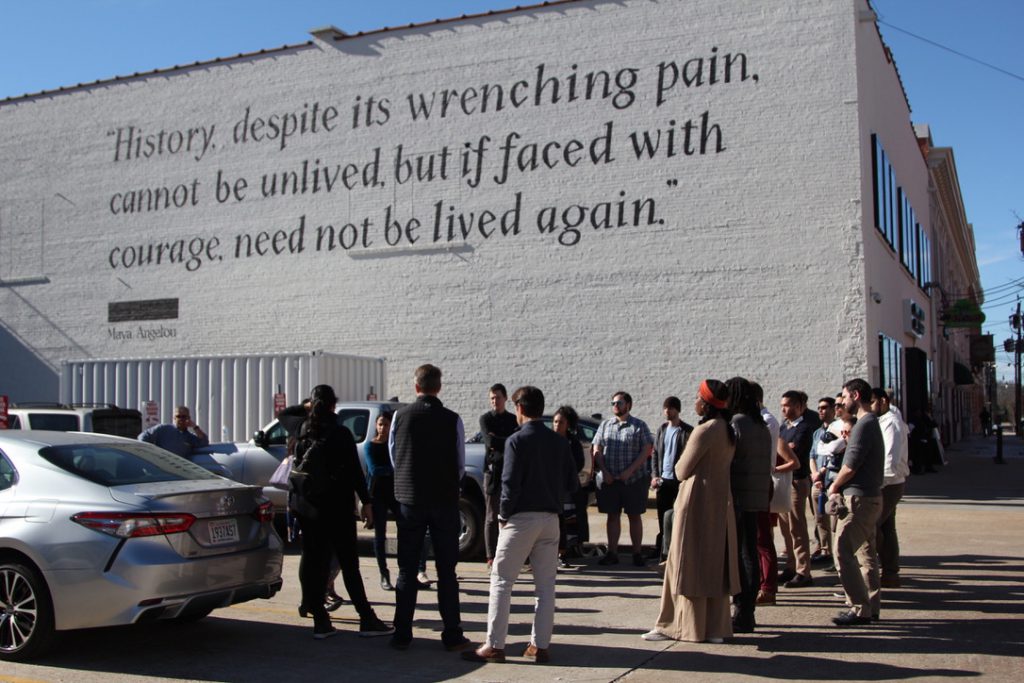 Communication
Communication and collaboration are very much related, but they're also distinct. At Solstice, we've built an extremely friendly, inclusive culture. Through conscious recruiting, monthly team socials, the occasional beer after hours, and a shared desire for a positive work environment, we've created a space where we hope everyone feels comfortable. But sometimes, we realized as we talked during our offsite, we might be hesitant to have conversations that make us uncomfortable.
Honest conversations about topics like performance or culture present a challenge to any company because they run the risk of offending someone involved. But they're also necessary for impact and growth. If we don't question everything we're doing, and if we don't have the answers to back up our decisions, how do we know if we're making progress? So we made a pledge not to shy away from challenging conversations, along with this clear promise: we're all here for each other, for our company, and for the customers we serve.
Perspective
We're growing quickly, and we're extremely proud of our accomplishments thus far, but we're still a relatively small group attempting to bring change to a very large, very old industry. It's a big challenge, and sometimes that can feel like a lot of weight on few shoulders.
Creating the space for everyone to express what they're thinking about for the future of the company–what makes them excited and what makes them nervous–presented us with a great opportunity to support our teammates. As it turns out, many of us were excited and nervous about the same things, and it was great to learn what everyone was looking for as our company scales. With that knowledge, we can not only grow, but grow in a smart, sustainable way for each member of our organization.
Growing Closer As a Team
We could have held our offsite anywhere. A campground in the mountains, a cabin in the woods, a house on a lake–any of these would provide space for valuable discussion and team bonding. After all: shared stories and laughs are a big part of what any offsite is all about! And it's fair to say that, between team meal prep, airport hangs, and pre-bedtime tunes, we set aside time for just that.
We were also fortunate enough to enjoy performances from two artists that accompanied us on this trip: poet Marshall Jones and RAPtivist Aisha Fukushima. Excitedly, we gathered around the living room in our AirBnB to take them in. With only a few minutes to prepare, Marshall transformed our team's experience and following conversation into two amazing spoken word poems that left us speechless. After that, Aisha dazzled us–not only with her presence in front of a crowd or her lyrical talent, but with her ability to draw us into the performance and bring out our personalities. Through breathing exercises, shared stories, team ciphers, and human pyramids, we let our guard down and learned a lot about each other.
As our Co-Founder and CEO Steph Speirs says, great companies are built by great teams. Through our offsite and the conversations that came after, we're more ready than ever to work as a team toward our goals.
company culture
company mission
environmental justice
social justice