What is community solar? By allowing households like yours to enroll in a local solar garden and see savings on their electric bill, community solar has become the first form of solar energy to regularly bring savings to renters and households with unsuitable roofs.
The benefits of community solar are simple:
More local, clean, renewable energy for households across America – with no roof or property necessary
Yearly savings for subscribers without any extra costs
Greater solar access for the approximately 80 percent of American households who can't do rooftop solar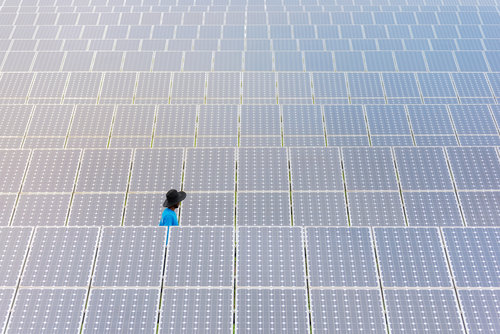 Still, community solar is a new concept for many—and it's worth going over exactly how it will work if you choose to sign up.
Here's How Community Solar Works: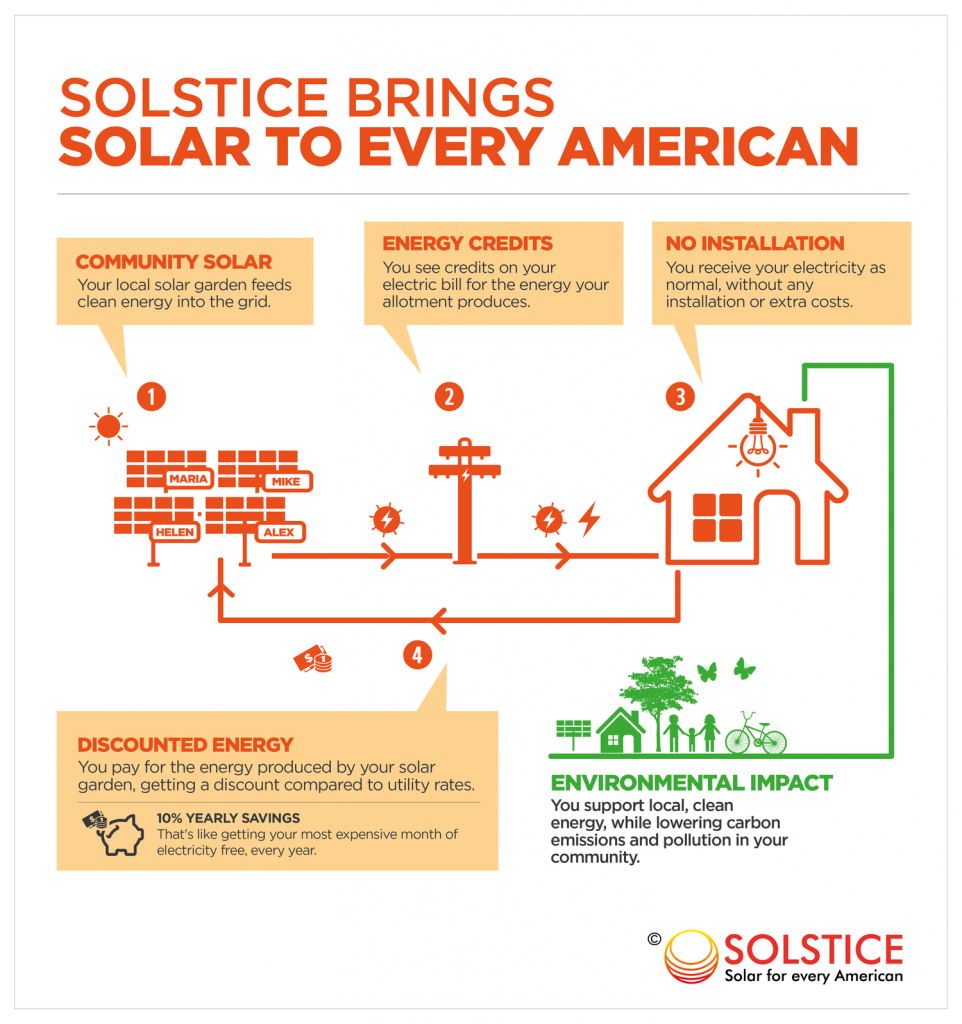 As far as your electric utility is concerned, community solar works in much the same way as rooftop solar. Every day, your panels generate energy. Your utility gives you credit on your electric bill for that energy and delivers electricity to your house as it normally would.
The major difference is that with community solar, you don't need to install panels or make any changes to your own rooftop or property.
Instead of paying $20,000 upfront for your solar panels, as you would with rooftop solar, most community solar gardens allow households to enroll on a subscription basis. They offer a discount on the energy that their participants' panels generate, typically 10 percent, so when you pay your bill for the solar garden, you end up saving money.
Related
Community Solar Brings You Savings Without the Hidden Charges
Still have questions? Get in touch or check out the FAQ below:
How do I save money?
Solstice sizes your 'plot' in the solar garden to fit your energy needs. This means that your utility bill will be more or less zeroed out every month, and you'll be paying for your solar energy at a set discount rate – meaning that with community solar, you can only ever save.
How does my participation put more solar in the ground?
Community solar gardens don't get built without the participation of people like you. That means that by signing up for community solar, you're directly helping to bring more clean energy to your area!
How does the solar developer make money?
Solar developers are responsible for financing and building solar gardens. They earn revenue when you pay for your discounted solar energy every month. (Remember, that's money you won't be paying to your electric utility.)
How much will I pay every month to my utility? To the solar farm?
We give you a 'plot' in the solar garden that will reduce your annual electric bill approximately to zero. Instead of going to your electric utility, the money you pay for your energy will go to support your local solar garden. You'll pay for the energy your panels produce, but you'll pay at a discounted rate—typically 10 percent off compared to your utility rate.
Are there any extra costs or hidden charges?
None! We'll walk through every word of the contract with you if need be, but we assure you: there are no hidden fees, and you can cancel at any time—all we ask is that you give us two months' notice so we can find someone to take your place!
Want To Know More?
Here's How Much You Can Save With Community Solar
affordable renewable energy
affordable solar
community solar home
How Does community solar work
infographic