Solar energy provides many benefits compared to fossil fuel generation, perhaps most notably the ability to address large-scale environmental problems like pollution and climate change. But like many of you, we're also concerned with our solar farms' local impacts.
It can feel like a contradiction: In an era of cheap air travel and video conferences, communities from around the world are taking up the call to 'go local'.
As the harmful effects of globalization have become increasingly apparent, resistance has taken many forms. People trade their cars for ride sharing apps and public transit, or buy used goods from Craigslist instead of shiny new ones at the department store. Approximately 100 million Americans belong to one of our country's 30,000 cooperatives. In bringing things back to this smaller scale, re-localizing the economy gives people an opportunity to divorce themselves from faceless corporations and deal directly with people in their communities. And besides keeping dollars in local communities, this trend is modestly contributing to a decline in fossil fuel emissions.
Community Solar Brings Benefits to Local Economies
We see community solar as a chance to magnify that impact. Community solar is a mechanism that everyday Americans are using to collaborate on local energy production, gaining control over systems that have historically remained in the hands of large monopolies.

Community Solar Farms Help Build Local Wealth
Most community solar farms operate by allowing people to sign up for monthly subscriptions. This allows households to see immediate savings on their electric bill without any hidden costs or installation on their property, all while supporting renewable energy.
And while local ownership isn't part of this model, these projects are in many ways driven by and benefiting their local communities. Financing for the projects is dependent on local engagement with the project: the solar gardens do not get built until households enroll in them. Moreover, projects distribute benefits to individual households in the form of reliable savings, but also to communities in the form of jobs, government revenues, and local clean energy.
Related
Who Pays For Community Solar Farms?
Community Solar Ownership: Hurdles and Possibility
Going a step further, some communities have also begun searching for ways of bringing project ownership to local communities.
Colorado's Clean Energy Collective (CEC; one of the nation's 30,000 cooperatives!) built one of the country's first community solar gardens: taking what was, at that point, just an idea, and building a thriving example of community-owned clean energy in Colorado. CEC sold the facility to 19 local homeowners upon its completion. Each member purchased about nine panels (2 kW) on average, and taking into account local clean energy rebates, spent an estimated $3,500.
The extra work involved in this approach can have its rewards. Owning panels can provide increased savings to individuals who are willing to navigate the paperwork involved in redeeming tax incentives and renewable energy credits.
Related
How Long Do Solar Panels Last?
This ownership model may be the ideal form of community solar for those invested in the vision of a sharing economy: electricity generation for the people, by the people. A local facility produces clean energy, benefits the local economy by creating new jobs and reducing electricity costs, and ownership over the farm ensures that local communities retain control over their energy decisions.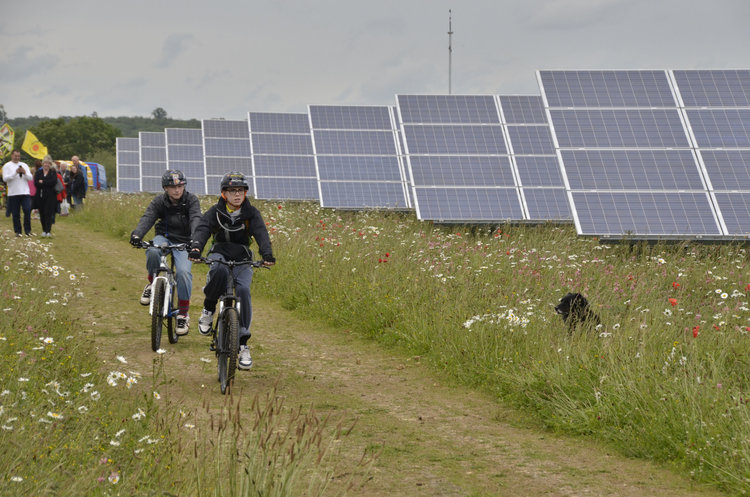 But many don't have the savings to pay the costs upfront, and don't qualify for financing. That's why Solstice focuses on a subscription model for community solar. We know that low- and moderate-income families typically have higher energy bills than wealthier households, and will benefit the most from electric bill savings. For a local, sharing economy to benefit everyone, it needs to be accessible regardless of economic class—and that means models like subscription community solar.
Community solar is growing by the day. The Department of Energy projects that shared solar resources could comprise 49% of the solar market by 2020. More and more Americans are finding collaborative ways to switch to renewable energy, just like they traded personal vehicles for ride sharing apps. Local, sharing economies are rising to address our social and environmental challenges, and community solar will continue to be at the core of this transition.
The Truth Behind 10 Common Concerns About Solar Energy
Solstice takes an objective approach to these common solar myths.
community solar
energy democracy
green jobs
local economy
sharing economy
solar jobs
solidarity economy