Like it or not, you get a Central Hudson bill every month. Worse, chances are you're devoting more time and money than you should toward it. Cut out the extra time and cost with these 3 tips that'll slash your bills.
Unless you've taken yourself completely off the grid, you have to pay an energy bill every month. Those energy expenditures add up big time. In 2018, Central Hudson made over $700 million in revenue off electric and gas sales, with the average customer paying almost $2,000.
It hurts to send away that money over and over again. But you know what hurts even more?
Knowing you're paying more than you need to.
Don't pay extra to Central Hudson for your energy. Keep your money in your pocket, where it belongs.
How can paying Central Hudson bills be quicker, simpler, and less costly? These 3 steps, including one that saves you 10% right off the top, will get you there without costing you an extra dime.
1. Set Up Autopay
When it comes to payment, Central Hudson gives you options. 
You can pay your bills over the phone, through the mail, online, in person, or even via text. Every choice is valid for its own reason. One option, though, is the quickest (because it takes no time at all).
If you set up autopay for your Central Hudson account Central Hudson will automatically draw the funds you owe every month. No need to write a check, make a call, or anything like that. No extra work.
You'll still get your monthly statement from Central Hudson so you can monitor your energy use and payments.
If the idea of giving your banking information to your utility makes you uncomfortable, consider this: bank transfers are closely monitored by the State of New York. You're no more likely to be overcharged with this payment method than any other.
In fact, paying this way is actually safer than sending a check in the mail or talking to someone over the phone, because you know your money is going to Central Hudson and can't be intercepted along the way. Using autopay also ensures timely bill payments every month, which benefits your credit score down the line.
This is one of the simplest things you can do to save money. Seriously.
New York State requires Central Hudson to meet clean energy standards. That means new solar farms are connecting to its power lines–and THAT means Central Hudson customers can sign up to benefit.
Everyone benefits from clean energy in general, but not everyone sees the credits on their bill. Those are reserved for the households that enroll in what's called community solar. An alternative to rooftop solar, community solar lets Central Hudson customers subscribe to a share of a solar farm.
Solar farms are free to join (here are the financials that explain why). By joining, you earn credits for the energy your solar share creates, lowering your bill.
Lowering it by how much? About 10%, month after month. It's like getting a home energy efficiency upgrade, without the added costs.
Why don't more people do this? Mostly because they don't know it exists. After all, did you know about this opportunity before I just told you?
That's why we're spreading the word!
You're not changing how your energy is delivered. You're just agreeing to support more clean energy in the grid, and in exchange, you get a discount on your normal power. You can find out more about community solar here.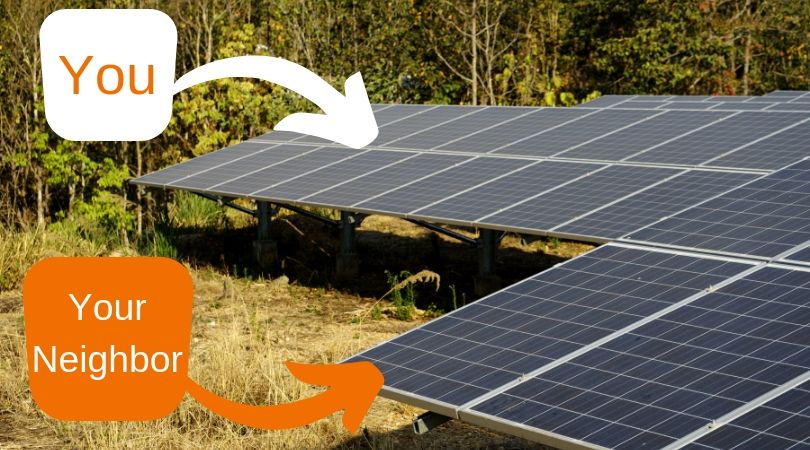 3. Sign Up For a Central Hudson Energy Saving Program
Central Hudson actually offers customers incentives to go green and save energy.
For instance, Central Hudson can help cover the cost of lighting improvements that save you money. They can also help you upgrade your heating or cooling systems–or even pay you to recycle!
Don't underestimate the impact that something like switching to LED lighting can have–they can be about 90% more cost-effective than traditional bulbs.
You can check if you're eligible for these programs on the Central Hudson website. You might be able to cut down your monthly bills for years to come with almost no effort.
Next Steps
Hope you found these steps useful!
If needlessly overpaying for energy bothers you as much as it bothers me, fill out a community solar interest form below!
And if you've got your own energy savings tips, let me know about them in the comments so I can share them with more people. After all, lower bills are better. Don't you agree?
Bill Pay
central hudson
Electric bill
state